We been very delighted and honoured to be asked to contribute to the Guns on Pegs ShootHub newsletter. Our first piece went out on the 10th of May and if your not enrolled to receive it please follow the attached link.https://shoothub.gunsonpegs.com/articles/shoot-management/nutrition-is-the-key-to-your-dogs-performance?ref=related. There was great stuff in ShootHub not just by us but on RTVs, rearer and many other great articles.
We decided to do our first piece on something very important to us "dog feeding" and with this in mind we asked our good friend and Nutritional Expert Dr Jacqueline Boyd to give us a hand. Below is the article we hope you enjoy it;
"Simon and Kate of Stoneycairn are very fortunate to be able to spend about a 100 days a season out picking up in Yorkshire. However with that good fortune comes a huge responsibility to ensure that their dogs are in the best possible health. They've asked their friend in Dr Jacqueline Boyd, an expert on Dog Nutrition to share her thoughts on diets for gundogs.
Our friend in Dr Jacqueline Boyd gave us the following advice:
Feeding the working gundog out-of-season
For many gundogs, the close season means rest and recuperation. From a nutrition perspective, reduced activity levels mean that fewer calories are being burned off on a daily basis. Put simply, unless there is an equivalent reduction in calorie intake, then a resting gundog will gain weight. This can have long term health and wellbeing consequences, not to mention that weight is much harder to lose, than it is to gain!
Consequently, the traditional approach is to swap dogs out-of-season onto a lower nutrition plane, typically a diet with reduced levels of fat and protein (declared as percentages on labelling). Many dry food manufacturers produce diets specially formulated for use out of season as a result.
Alternatively, the other approach is to simply feed a reduced volume of the diet your dog was fed during the season. This has the direct consequence of reducing the calorie intake, in addition to the levels of protein and fat and other nutrients that might not be required at the same levels during rest periods. Indeed, current scientific thinking is starting to encourage the latter, in order to keep the digestive system on a more or less constant nutritional plane, and it also has the added benefit of the body's cellular machinery being pre-adapted to those nutrients.
The risk here however, is that you could end up feeding such a small volume of otherwise nutrient dense food, that your dog is not satisfied by the volume fed, or that other nutrients become deficient. It is always good to consider feeding guides for commercially produced food of all types, and if you are feeding either very below or indeed above the recommended guidelines, then an alternative food is probably best.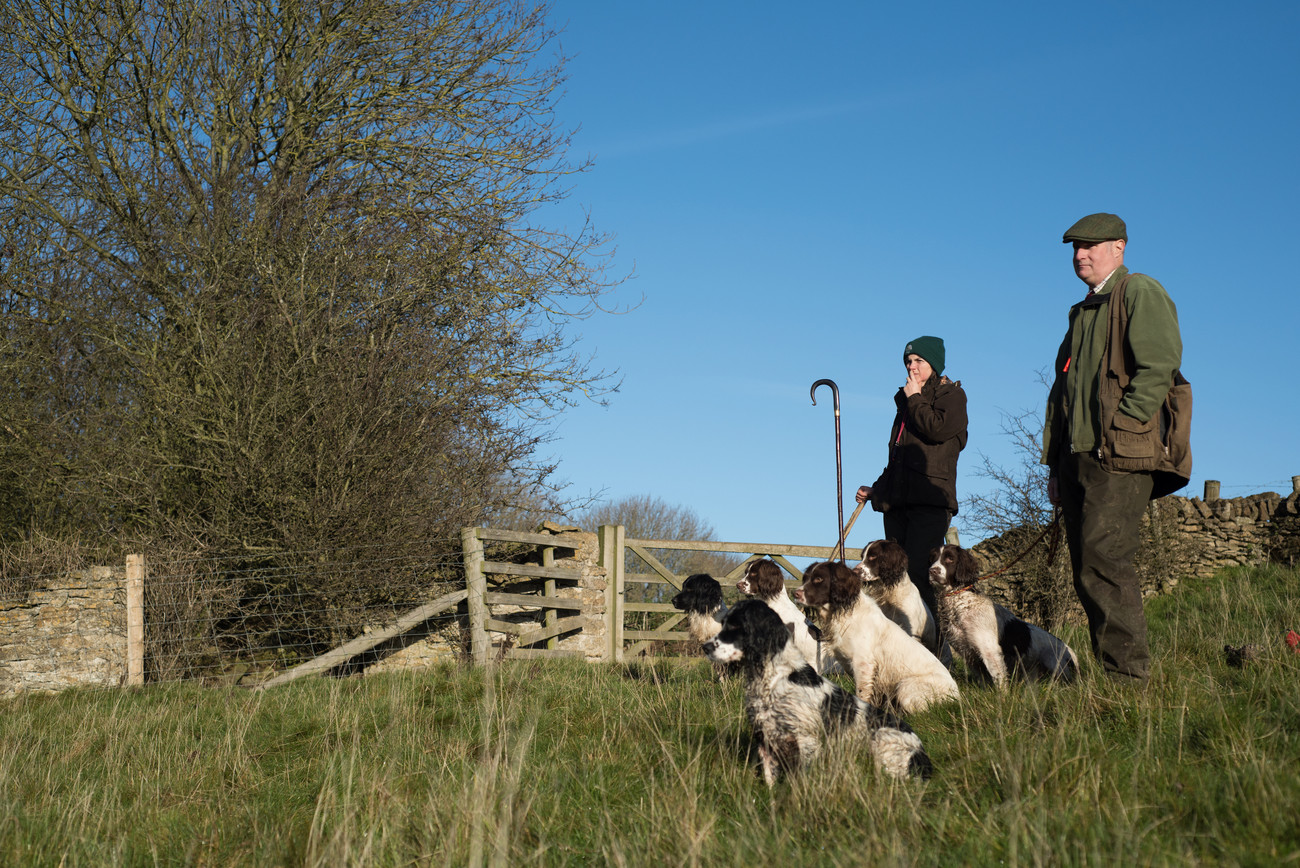 Feeding the working gundog in-season
The working gundog comes in various forms, form the steady peg-dog who might have a sedate and relaxed day, to the picking-up dog who could have periods of "rest" interspersed with high activity, right through to the hard-hunting beating dog. There are even those dogs that dabble in all three during the season, and others who are working several times a week.
Feeding well during the season means taking account of the intensity, frequency and duration of the work that is being asked of a dog. For many weekend gundogs, little needs changed to their daily diet in truth, although for others, enhanced calories are needed for fuel.
Fat for fuel
The metabolism of dogs works best on fat as a fuel source, and for this reason, a diet with a moderate to high level of fat is typically best for hard-working animals.
Protein for recovery
Protein is also important as protein provides the key building blocks for the body to grow, repair and rejuvenate. Studies have shown that working dogs fed a higher fat and protein diet show better work output, recovery and reduced incidence of musculoskeletal injuries.
Carbs for intensity
Carbohydrates are also important, especially in situations where dogs are undertaking short bursts of intense exercise, but carbohydrates are also very useful to aid physiological recovery after work.
Water above all
However, the key nutrient for hard working animals is actually water. Ensuring hydration is provided or available frequently is critical to support work output as well as overall health and wellbeing.
The key points to consider for gundog nutrition
1. Fat is your dog's fuel
2. Protein supports recovery and repair
3. Carbohydrates provide instant burst energy and can support recovery
4. Hydration is vital
Stoneycairn Ltd offer gundog training, breeding and picking up services, as well as running around a dozen shoot days a year. They also have an online store selling clothing, dog nutrition and training aids. "